Steel Door Installation in Chatham and Nearby in Ontario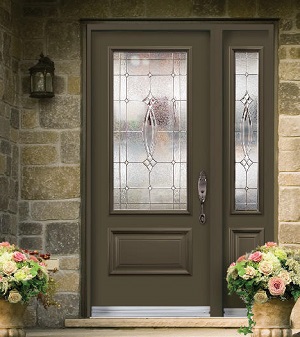 Steel doors offer unique qualities as your home's entry door.
Enjoy durability and beauty with steel entry doors for your home
If you're looking for durable, great looking door for your home, steel doors from Sentry Windows and Doors are a great choice. Our steel doors are all hand fabricated and custom made to suit your taste, style and home. Each steel door is also custom made to fit just about any opening.
If you're interested in a steel door for your home, call us today at 1-844-385-8893 or click below to get a free estimate! We offer all our door installation services in Windsor, Chatham, Amherstburg, Cambridge and throughout the surrounding areas.
The benefits of our steel doors
Custom manufacturing: Since our steel doors are custom made and not mass-produced, we only utilize the best raw materials in our fabrication process to bring you the best and most durable products. In many cases, the steel used in mass-produced products is very thin (to minimum code standard), which usually leads to corrosion, dings, and dents on the surface of the door. The doors we offer use only the thickest gauge steel, minimizing any dings or dents that may occur. In addition, the door comes factory primer finished allowing you to paint the door in any colour you like.
Computer enhanced: We offer a unique computer design program so you can actually see what your door will like when its finished before you even place the order! This allows you to be sure you're getting the right door for your home.
Visual appeal: Front entrance steel doors play a key part of the curb appeal to any home, which is why we offer a wide array of powder coated colour options to tie into the rest of the home. Even though the steel door maybe a replacement product, that doesn't mean it should look that way. Choose from a wide selection of premium door glass including traditional styles in half, three or full door lites, and side lites. In addition, door glass styles include stained glass, venting, rod-iron, mini-blinds, sandblasted, and many more.
Upgrade to steel doors in your home today
If you're interested in installing steel doors in your home, call the door replacement experts at Sentry Windows and Doors today. We can provide you with a beautiful, long lasting door that perfectly compliments your home. We offer free estimates on all our work in Amherstburg, Chatham, Cambridge, Windsor, Florence, Essex, Wheatley, Wilkesport, Pain Court, Tupperville, Erieau and throughout the surrounding areas.
Looking for a price? Get a no cost, no obligation free estimate.