Fiberglass Front Door Replacement
Get a classic look with modern materials with fiberglass door installation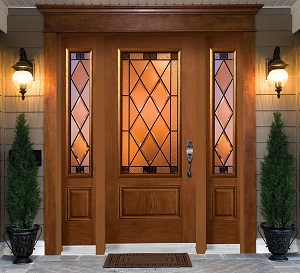 Fiberglass doors give the appearance of wood doors with improved longevity.
Many homeowners love the look of traditional wood doors but want something that provides better durability and longevity. Sentry Windows and Doors prides ourselves on offering the absolute best fiberglass doors available on the market today. Fiberglass doors are the latest technology in maintenance free home products designed to insulate your home, provide excellent security and give you the look and curb appeal any neighbour would be jealous of!
Let one of our product specialists provide you with all of the information you need to build your dream fiberglass door! Call us today at 1-844-385-8893 or contact us online to get a free estimate on replacement door installation in Windsor, Chatham, Amherstburg, Cambridge and the nearby areas in Ontario.
The highest quality fiberglass doors available
The Fiberglass wood grain door slabs we use are best in the industry! We use slabs made from the heaviest composite material and pressed via a 90 ton press to give you the strongest and most durable compound available. This means the fiberglass door slabs will not rust or corrode under any circumstance. In addition the fiberglass door slabs cannot ding or dent, giving you the same gorgeous look you have today for decades to come. This will be the last door your ever replace!
In addition to their durability, fiberglass doors are well known for their beauty! In the past and still today, the most beautiful doors were always considered to be wood. However, wood requires constant upkeep and maintenance, and in today's busy lifestyle who really has time for that?
Fiberglass wood grain doors provide the look of wood without any maintenance. These doors do not rot and come in a wide variety of powder coated colour options and doors styles to suit any style you can imagine! The best part is fiberglass doors can also be stained to match any wood finish and colour on the inside and outside!
Get a free front door replacement cost estimate today!
If fiberglass doors sound like the right solution for your home, Sentry Windows and Doors can provide you with an expert installation. We are Ontario's door replacement experts, specializing in fiberglass doors. Call us today at 1-844-385-8893 or contact us online to get a free estimate! We offer all our services in Chatham, Cambridge, Windsor, Amherstburg, Essex, Florence, Wilkesport, Wheatley, Erieau, Pain Court, Tupperville and throughout the surrounding areas.
Looking for a price? Get a no cost, no obligation free estimate.